The Dennis Wheatley 'Museum' - World War I
Dennis Wheatley in seated pose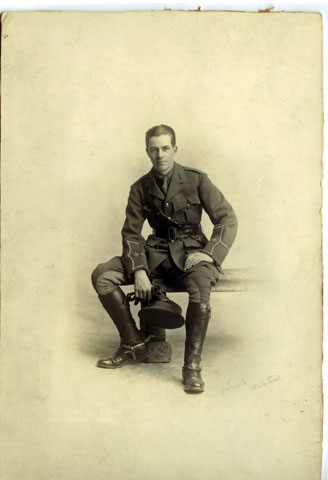 Another classic picture of DW, which was used as the frontispiece of 'Saturdays with Bricks'
It is not evident in this picture, but from time to time, and in line with the fashion of the time, DW sometimes wore a plain glass monocle.

This monocle was responsible for giving DW what he considered an ill-deserved reputation for bravery. On occasion, when others dived for cover, he remained upright. But according to DW this was not bravery - it was to save losing his monocle and getting covered in mud.

Some of his other attire was more practical. His mother had DW's tunic reinforced with steel plates - to which DW had an extra plate added lower down to keep his lower regions safe (!).


| | |
| --- | --- |
| References : | 'Officer and Temporary Gentleman' ; various including p142. |
| | |
| --- | --- |
| Provenance: | Private Collection |