Bloomsbury Publishing re-launch Dennis Wheatley's novels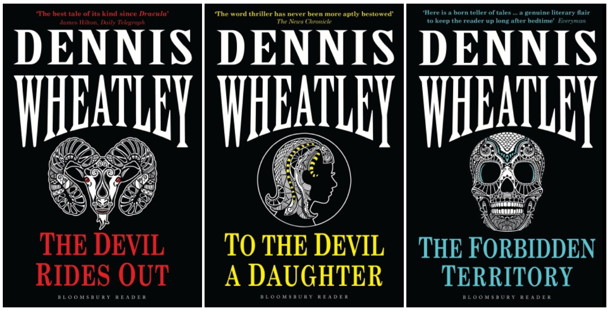 Bloomsbury Publishing is re-launching the full suite of DW's novels.
The Forbidden Territory, The Devil Rides Out and To The Devil – A Daughter are being published in paperback, with the remainder of the titles being published in e-book form.
For a list of the titles so far scheduled, click here.
---
Tina Rosenberg's e-book on DW's Career in World War II is now out!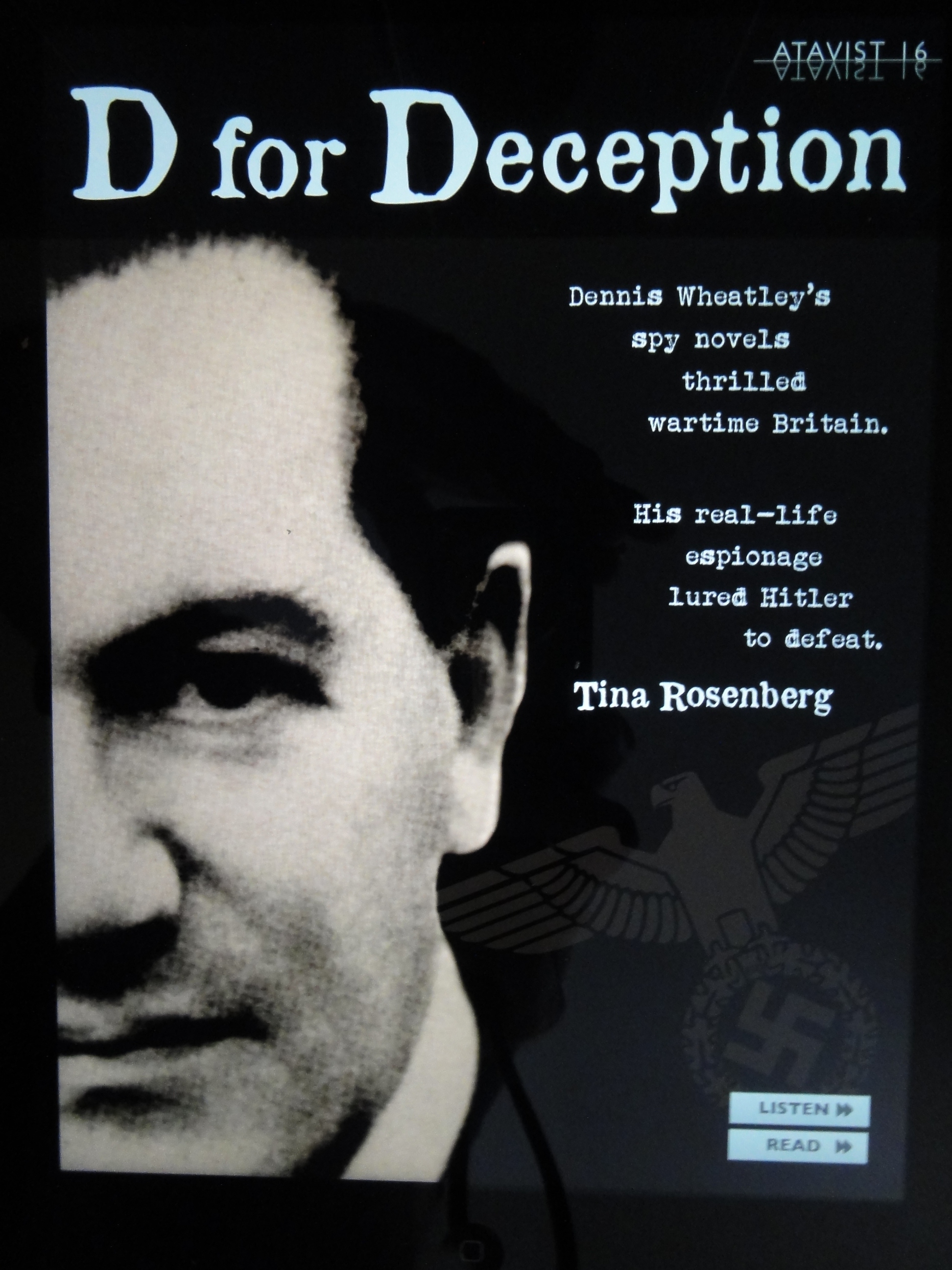 D for Deception
Atavist No 16
Price $1.99 to $2.99 depending on version
Pulitzer prize winning author Tina Rosenberg has just published 'D for Deception'. Primarily about DW's career in World War II, this e-book has a variety of links, and Tina has been kind enough to give special thanks to this site's virtual Museum. A worthy addition to the growing corpus of books dedicated to exploring the life of Dennis Wheatley.
---
Paul Adams' latest book contains a chapter on the Welcomes murder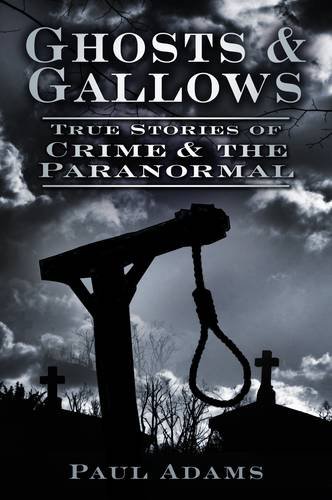 Ghosts & Gallows : True Stories of Crime and the Paranormal
by Paul Adams
The History Press 2012
£12.99
Regular correspondent and author of 'The Borley Rectory Companion', Paul Adams has just published his latest book, 'Ghosts & Gallows'. Chapter 4 is an account of the Welcomes Murder, which saw the demise of DW's close friend and mentor Gordon Eric Gordon Tombe. A valuable addition to the literature on the murder.
---
A new omnibus edition 'Classic Black Magic from Dennis Wheatley' with a foreword by Dominic Wheatley (DW's grandson) has just been published by Prion.

It contains the classic stories 'The Devil Rides Out', 'To the Devil a Daughter' and 'Gateway to Hell'.

Note : Aficionados may wish to note that a few very minor changes have been made to the original texts of the novels to align the texts to the sensitivities of the modern era.

Price £20

ISBN 978 1 85375 790 7
---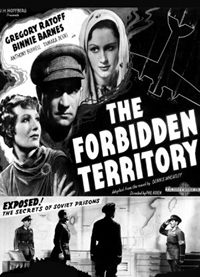 The film of 'The Forbidden Territory' – or to be accurate, the U.S. version, which is some 8 minutes shorter than the original version - is now available commercially

To order, click on the following link :-


ISBN No: 978 1 903517 75 8

RRP: £25.00

http://www.ecrater.com/product.php?pid=6170484



---
Phil Baker's ground breaking biography
'The Devil is a Gentleman : The Life and Times of Dennis Wheatley'
is now out !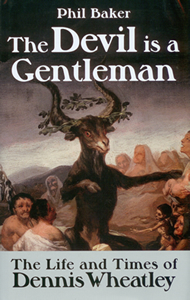 This 699 page book is the comprehensive biography of Dennis Wheatley that we have all been waiting for.

Drawing on a wealth of unpublished material, Phil Baker charts DW's life from start to finish in a highly readable book which nevertheless contains a huge amount of detail.

In the course of the book Baker examines Wheatley's key friendship with Gordon Eric Gordon Tombe, and uncovers the full story of Tombe's sensational murder in 1922. He also explores Wheatley's relationships with occult figures such as Rollo Ahmed, Aleister Crowley, and the Reverend Montague Summers.

Baker demonstrates that Wheatley was as interested in politics as occultism. He was closely involved with the secret intelligence community and this powerfully researched study shows just how directly this drove Wheatley's work, from his unlikely warnings about the menace of Satanic Trade Unionism to his role in a British scheme to engineer a revival of Islam.

Published by Dedalus Ltd

ISBN No: 978 1 903517 75 8

RRP: £25.00
* * *
Let's hope Phil's book has the success it deserves, and that it helps restore DW to the place that is rightfully his in the firmament of Great Britons of the Twentieth Century.
---
CHORION ACQUIRES ESTATE OF DENNIS WHEATLEY;
TOP SELLING AUTHOR BEST KNOWN FOR
STYLISH THRILLERS AND OCCULT CLASSICS OF 1950'S AND 1960'S

LONDON, 18th April 2008 - Chorion has acquired the estate of Dennis Wheatley, one of the best selling authors of the 1950's and 1960's. Known for his stylish thrillers, whodunit mysteries and occult classics, Wheatley's works were also made into films, the most successful of which was The Devil Rides Out. The announcement was made today by Tamsen Harward, Literary Estates Business Manager, Chorion.

At the peak of his career, Wheatley was selling over one million books a year. In addition to his novels, which also included To The Devil A Daughter, Wheatley penned non-fiction works, including accounts of the Russian Revolution and King Charles II. His work is particularly distinctive for his themes of black magic and Satanism.

"Dennis Wheatley was a hugely successful author who is primed to be 'rediscovered' by the next generation," said Harward. "Chorion is looking at the Wheatley portfolio from a fresh perspective and considering everything from republishing his out-of-print works, to new adaptations for the young adult market to television and film opportunities".

The addition of the works of Dennis Wheatley adds to Chorion's already extensive literary estate division, which owns and manages the worldwide IP rights to some of the greatest novelists and mystery writers of all time. Authors under the Chorion banner include Agatha Christie, Raymond Chandler and Georges Simenon, as well as Margery Allingham, Nicholas Freeling and Edmund Crispin. In addition to managing this extensive publishing portfolio, Chorion works across all media platforms to develop brand extension opportunities. The company's television division produces the hugely popular Agatha Christie's Poirot and Agatha Chrisitie's Marple.

About Chorion
Chorion is a leading provider of quality entertainment for the global marketplace. Chorion brings a combination of brand management savvy and creative vision to the development of classic literary copyrights across all media. Chorion's portfolio includes classic children's brands as well as the literary works of Agatha Christie, Raymond Chandler and Georges Simenon, among others.

Chorion has offices in London, New York, Tokyo and Sydney. Chorion operates as Chorion Silver Lining in the US. www.chorion.co.uk.

---
Wordsworth Edition reprints
Wordsworth Editions Ltd have decided to add three of DW's titles to their Tales of Mystery and the Supernatural series, and, if these prove popular, may continue to add DW titles to their expansive published list.

Wordsworth Editions Ltd, founded in 1987 as a dealer in remainders and publishers' overstocks, began to publish reissues of some beautiful illustrated colour books, especially the aquatint and chromolithographed books of the 19th century.

They commenced their famous £1 Wordsworth Classics titles in 1992 which took off to sell virtually millions of copies. This series was followed by others, such as Children's Classics, Wordsworth Reference and Poetry Library, and later World Literature, Military Library and Special Editions. The two common denominators ? – affordability and great titles.

The Tales of Mystery and the Supernatural series is their latest project and was started in May 2006. The series is proving extremely popular with their selection of now-hard-to-find stories and anthologies, and their choice of graphics for the covers, which is already impressing long-term fans of the genre. I was impressed by seeing that a number of titles on Amazon are already showing as nearly out of stock!

The DW titles they are going to publish at the moment are:


| | |
| --- | --- |
| THE DEVIL RIDES OUT - March | ISBN: 978-1-84022-543-3 |
| TO THE DEVIL A DAUGHTER - April | ISBN: 978-1-84022-544-0 |
| THE HAUNTING OF TOBY JUGG - May | ISBN: 978-1-84022-545-7 |

All are priced at £2.99 and have introductions by Anthony Lejeune

As some of you will know, the cover designs were Bob's creation, and – while it was too late for anything to appear in the first volume other than a brief acknowledgement on the back cover - we expect the second and third volumes to carry the following paragraph:

"The publishers would like to acknowledge the cover designs as the work of the late Bob Rothwell, who passed away December 2006, an enthusiast and renowned expert on Dennis Wheatley. He will be remembered by the many friends he made during years of dedication to raising the profile of Dennis Wheatley"

Let's hope these three reprints are all an enormous success and others follow hot on their heels...

Wordsworth Editions Ltd

---
'The Spy in White' re-released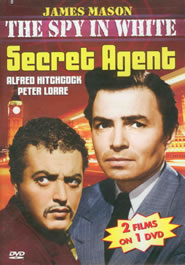 For those of you who haven't already noticed, the 1936 black & white film version of The Eunuch of Stamboul (released in the U.S. as The Spy in White) was re-released by Diamond Entertainment in 2005 as part of a two film DVD (US region).

We only noticed at the end of last year. If you haven't seen it, it's well worth a look!


Wheatley Back in Print!
As a follow up to the BBC 4 TV documentary in October 2005, when it was said that Wheatley should never be out of print, the publisher on the programme, Kate Bradley, has lived up to her word and produced two books containing four of the occult titles. Of particular interest to DW aficionados is the fact that the 2nd omnibus is the first publication to bring together the two 'Molly Fountain' titles.
The books are published by BCA (Book Club Associates) by arrangement with the Dennis Wheatley estate, and members of BCA can find them in the Thriller section of the club. Non-members might notice that copies have started to appear on eBay.
They are nicely presented in wrappers that have been printed to look like distressed leather; although the text blocks have been lifted straight from the 70's 'Heron' edition. DW's introduction to The Devil Rides Out has even been reproduced in its entirety, including the phrase "Thirty million copies of my books have been sold, and I have every hope that this beautiful Heron edition of my work will bring enjoyment to a host of new readers." ! Note, however, the 'Heron' illustrations have not been reproduced, nor, for some strange reason have the Contents pages.
Does this use of the 'Heron' text-blocks by BCA offer a clue as to where Heron/Edito-Service disappeared to?
Very many thanks to Phillip Gardiner for originally supplying the pictures and information for these books.
---
Wheatley's War Secret's Revealed?
A new book has been released dealing with Dennis Wheatley's time, not as a popular author, but as a member of Churchill's Joint Planning Staff during World War II.
The book revisits Wheatley's war papers and adds some contemporary thoughts and comments. It also spends some time padding out our knowledge of the time DW spent with the JPS and finishes by publishing some of the previously unpublished documents that DW wrote during WWII. There is also a useful 'full' UK bibliography (with errors and omissions!) included.
Published in hardback by Spellmount Ltd., ISBN: 1862272425, it is now available direct from the publisher: Spellmount Ltd., The Village Centre, High Street, STAPLEHURST, Kent, TN12 0BJ (Tel: 0044 01580 893730, Fax: 0044 01580 893731); price £20.00 plus £2.50 p&p.
For UK and USA readers who wish to order their copies from Amazon and save money on the recommended price, follow the appropriate links below.
---
U.K.:
Dennis Wheatley: Churchill's Storyteller.
List Price: £20, Amazon.co.uk Price: £14 + delivery. (Don't forget, if you order any other item to bring your total to over £15, UK delivery is free!)
U.S.A.:
Dennis Wheatley: Churchill's Storyteller.
List Price: $34.95, Amazon.com Price: $23.07 + shipping. (Don't forget, if you order any other item to bring your total to over $25, shipping is free!)
---
12 March 2005: Very many thanks to Craig Cabell, who has just completed the jacket blurb and made it available to the site in advance of publication:
Dennis Wheatley : Churchill's Storyteller
Dennis Wheatley was one of the most popular writers of his day, writing such classic novels as The Devil Rides Out and The Launching of Roger Brook.
Few people are aware that he spent the Second World War as a member of Winston Churchill's Joint Planning Staff, dedicating his talents to the formation of ideas and plausible scenarios to assist the war effort.
Here is the most complete record of this little known story, including previously unreleased documentation and the details of Wheatley's role in such covert operations as 'The Man Who Never Was' and 'Monty's Double'.
Including a Foreword by bestselling writer Frederick Forsyth (The Day of the Jackal), Churchill's Storyteller provides a seldom seen glimpse into the twilight world of Churchill's inner sanctum and the unique skills of one of the 20th Century's most popular and prolific writers.
Indeed the pen is mightier than the sword
Craig Cabell is the writer of five previous books, including both history and biography. For five years he was an in-house reporter with Focus – the House Journal of the Ministry of Defence. However he has been a freelance journalist for over ten years writing most notably for The Independent newspaper.
---
Book Details
Hardcover 282 pages, 2006 [Dec 2005]
Publisher: Spellmount Limited
ISBN: 1862272425
---
Other titles by the author:
Craig Cabell:
Frederick Forsyth: A Matter of Protocol (Robson Books, 2001, ISBN 1861054149)
The Kray Brothers: The Image Shattered (Robson Books, 2002, ISBN 1861055501)
James Herbert: Devil in the Dark. An Authorised Biography (Metro Publishing Ltd, 2003 , ISBN 1843580594)
Craig Cabell, Graham Thomas:
Operation Big Ben: The Dive-bombing Spitfire Missions, foreword by Raymond Baxter (Spellmount Publishers, 2004, ISBN 1862272514)
Craig Cabell, Allan Richards, Frederick Forsyth:
VE Day, A Day to Remember: A Celebration of Reminiscences Sixty Years On (Pen & Sword Books / Leo Cooper, April 30, 2005, 1844151840)
Craig Cabell, Richard Brown, David L. Robbins:
Snipers (July 2005) foreword by Frederick Forsyth (Blake Publishing Ltd, July 1, 2005, 1844541312)
---
This page created March 2005 and last updated Copyright © 2002-2006 Bob Rothwell. 2007-2022 Charles Beck.