LETTERS CONTENTS
PAGE


'A LETTER TO POSTERITY'
On 20th. November 1947, Wheatley wrote a very long letter which he called 'A Letter to Posterity'. His intention was to seal it in a bottle and then bury it within the foundations of his country home, Grove Place, where it would be found many years in the future. The letter which is nearly three and a half thousand words long talks at length about the rapidly changing world and the threat to liberty posed by burgeoning communications in the hands of ruthless politicians. He was, of course, writing at the time of the first post-war labour government, for whom he had nothing but contempt, and felt that the threat of communism was increasing and gaining a foothold in this country by way of the new socialist government.
Unfortunately, Wheatley sold Grove Place in the late 1960s, little realising that it would almost immediately be demolished for redevelopment. It was during this demolition that the letter was found in November 1969, just twenty-two years after it was written. Along with his letter is a short letter by his step-daughter, Diana Younger, who designed many of the dust wrappers and end papers for his early novels.


Below, and on the next few pages, is the complete text of the letter, which is written in ink on lined foolscap paper.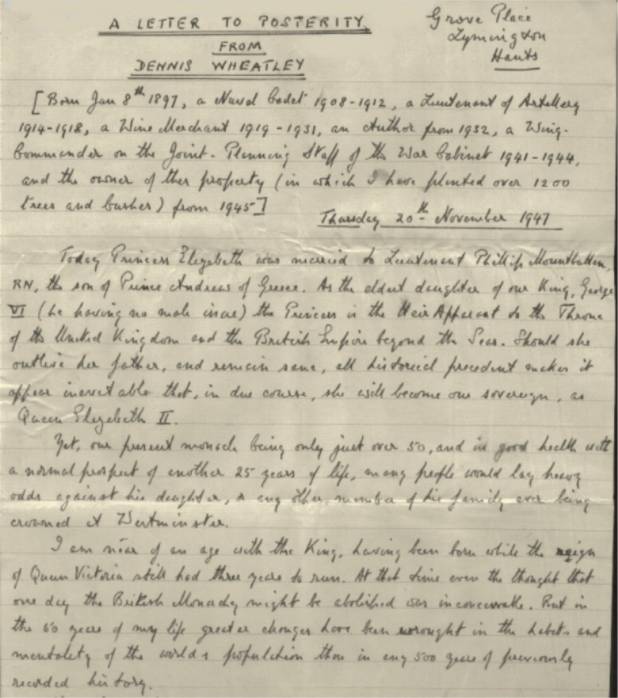 A LETTER TO POSTERITY
FROM
DENNIS WHEATLEY
Grove Place
Lymington
Hants

(Born Jan 8th. 1897, a Naval Cadet 1908-1912, a Lieutenant of Artillery 1914-1918, a Wine Merchant 1919-1931, an Author from 1932, a Wing Commander on the Joint Planning Staff of the War Cabinet 1941-1944, and the owner of this property (in which I have planted over 1200 trees and bushes) from 1945)

Thursday 20th November 1947

Today Princess Elizabeth was married to Lieutenant Philip Mountbatten RN, the son of Prince Andrew of Greece. As the eldest daughter of the King, George VI (he having no male issue), the Princess is the Heir Apparent to the Throne of the United Kingdom and the British Empire beyond the seas. Should she outlive her father, and remain sane, all historical precedent makes it appear inevitable that, in due course, she will become our sovereign, as Queen Elizabeth II.

Yet our present monarch being just over 50, and in good health with a normal prospect of another 25 years of life, many people would lay heavy odds against his daughter, or any other member of his family, ever being crowned at Westminster.

I am now of an age with the King, having been born while the reign of Queen Victoria still had three years to run. At that time even the thought that one day the British Monarchy might be abolished was inconceivable. But in the 50 years of my life greater changes have been wrought in the habits and mentality of the worlds population than in any 500 years of previously recorded history.

This page last updated Copyright © 2002-2005 samsbooks.