Dennis Wheatley's Library - modern first editions
John Buchan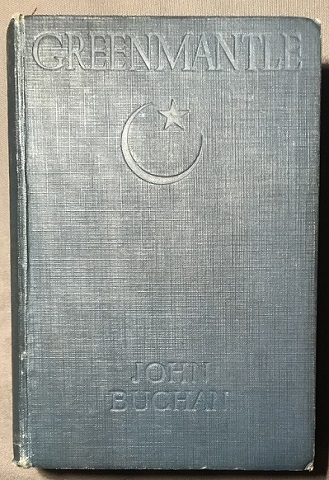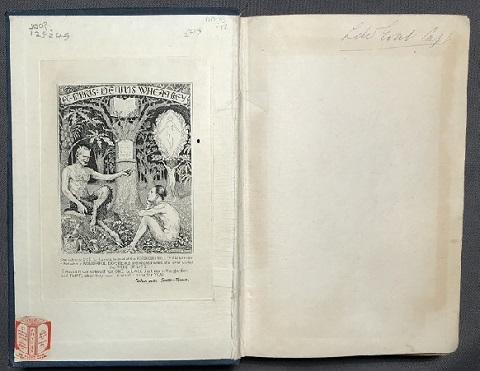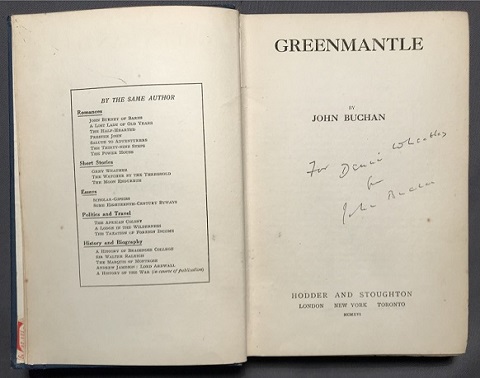 DW's copy of the second Richard Hannay novel,
'Greenmantle' (1916), autographed by John Buchan
Click on the image to enlarge
John Buchan, 1st Baron Tweedsmuir, was one of DW's favourite authors.
As DW wrote in the first part of his introduction to 'The Gap in the Curtain' in his 'Library of the Occult' series in 1974:
'John Buchan was a Scotsman yet few men can have loved England as dearly as he did. Again and again in his books we find beautiful descriptions of distant wood and winding rivers, seen from the high downlands on which he delighted to stalk deer; of forest glades, rippling streams and mill ponds into which he skilfully cast his flies to tempt fatally the rising trout.
Although he began life only as the son of a Manse, he soon became a welcome guest at the stately homes of many of the owners of these broad acres, and so was equally able to portray the atmosphere of casual good-breeding, integrity and consideration for inferiors that pervaded the majority of them in his day.
From Glasgow University he went to Oxford, where he became President of the Union and a Newdigate Prizewinner. During the later years of the Boer War he was Private Secretary to Lord Milner, the High Commissioner for South Africa. In the First World War he was on the Headquarters Staff of the British Army in France and later Director of Information under the Prime Minister. Between the Wars his activities and honours are too many to enumerate; but when he died in 1940 he was Baron Tweedsmuir, PC, GCMG, CH, Governor General of Canada.
At the time I first began to write John Buchan was my favourite author. Learning that he was to be the guest of honour at a Literary Luncheon, I went to it, taking with me a stack of first editions of his books that I had collected, and after the lunch asked him to autograph them for me. Later I realised that this was a most inconsiderate thing to do. Since then, at literary lunches I have often happily autographed one or two of my books for thirty or forty different people; but to write 'With best wishes to Maudie Jenks from etc.' in a dozen volumes is an awful chore. Nevertheless, far from showing any annoyance, this great man was most gracious. He made me sit down beside him and tell him about the few books I had then written, while autographing his own for me.
My favourites have always been his spy series in which one feels that Richard Hannay must have been a portrait of himself. Peter Piner is typical of the best of the Boers with whom he co-operated after the war in South Africa; the lovable dyspeptic Blenkion portrays the best qualities of the author's American friends and Sandy a perfect representative of the Officers who served in MI6 under the old Admiral in the great days of the British Secret Service, when it was the finest in the world.'
References : 'Officer and Temporary Gentleman', pages 149,150.
Introduction to Dennis Wheatley's Library of the Occult, Volume Eleven, 'The Gap in the Curtain' by John Buchan
Provenance: Private Collection