Dennis Wheatley's Library - non-fiction
Erotica and sexual psychology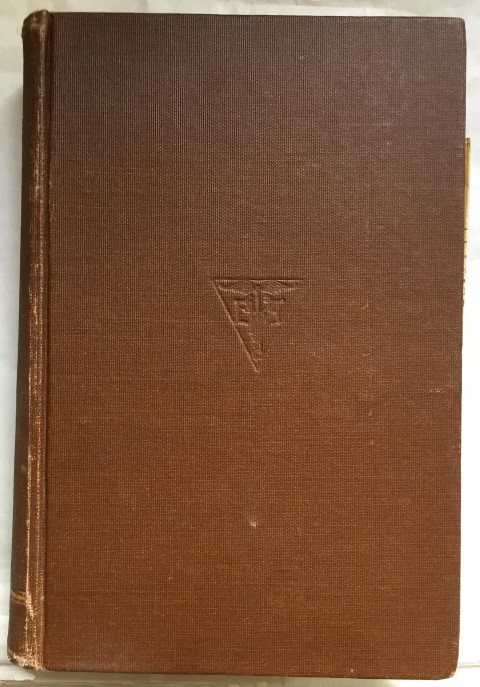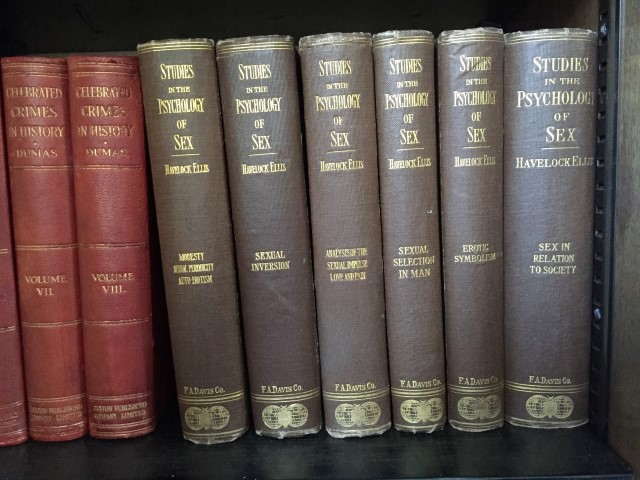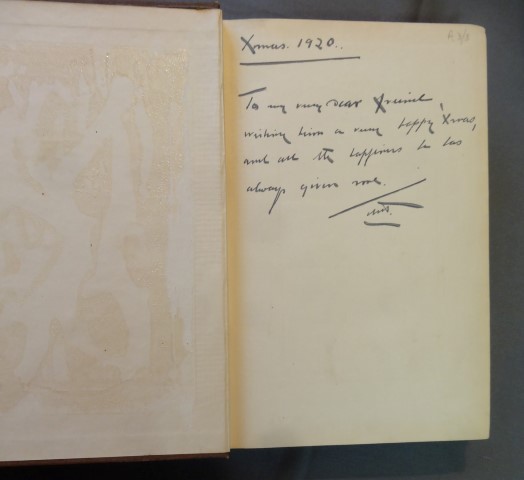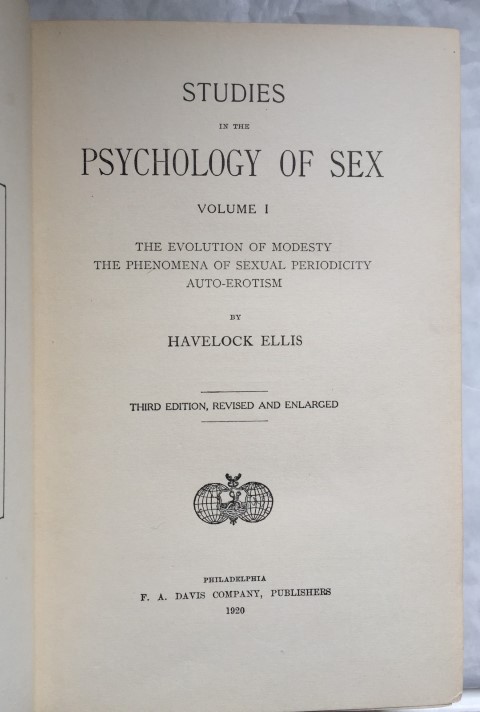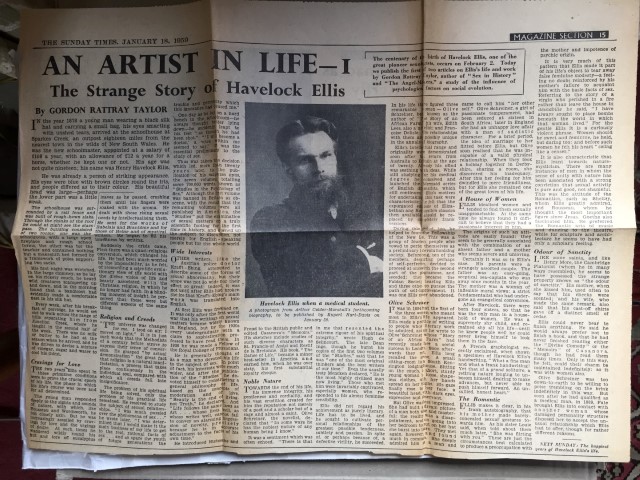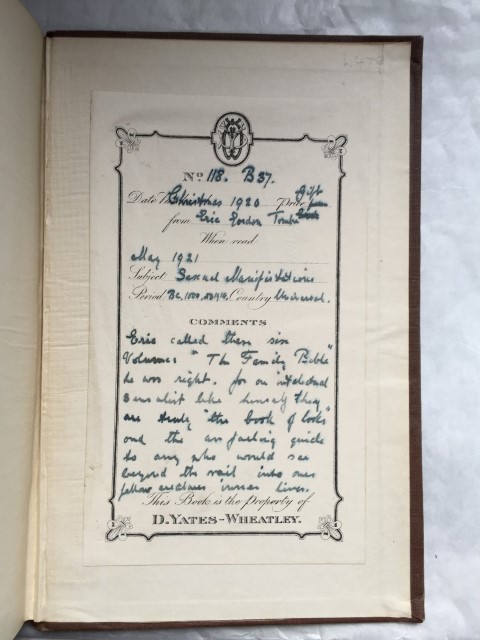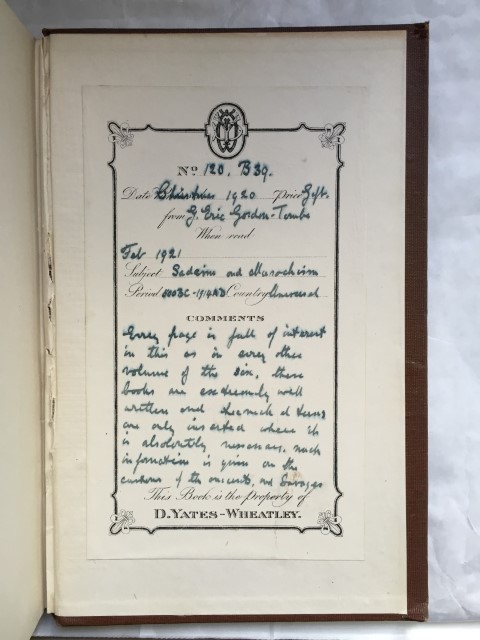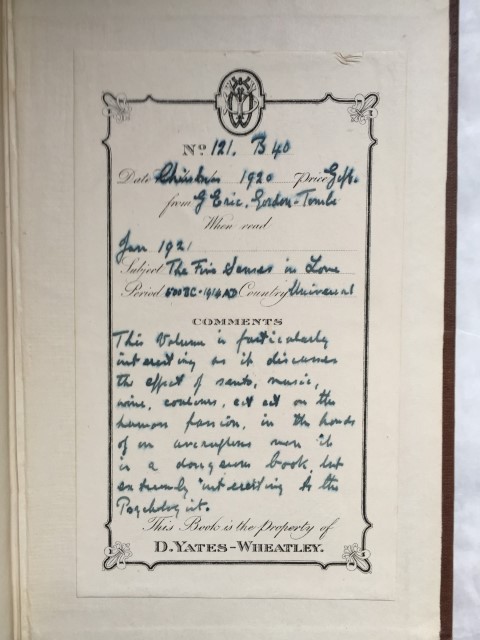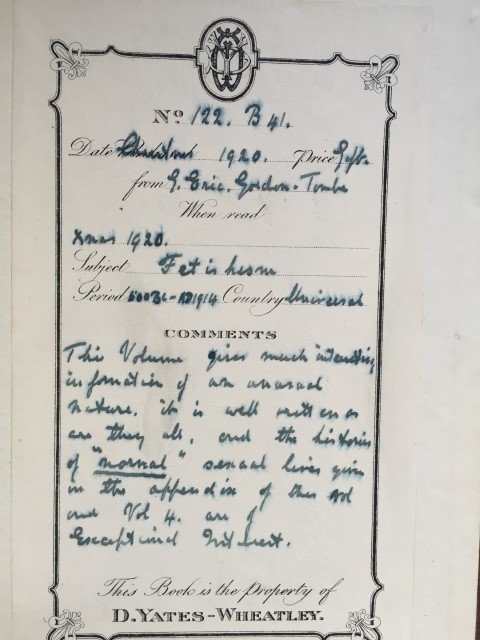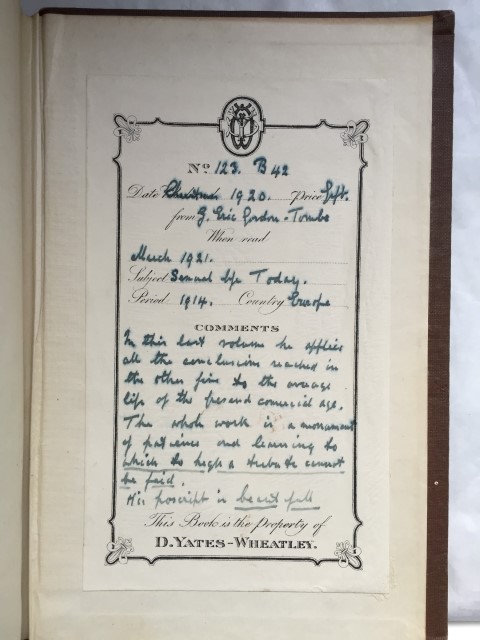 DW's six volume set of Havelock Ellis's 'The Psychology of Sex',
Gordon-Tombe's 'Family Bible', with a newspaper cutting laid in
Five of the volumes retain their earlier bookplate,
and the fifth volume has a gift inscription from Gordon-Tombe
Click on the images to enlarge
For a transcript of the bookplates, Click here
Unsurprisingly given the interests of his mentor Gordon Eric Gordon-Tombe, DW had a great interest in sexual psychology and sex.
He collected erotica from that time, and as he later recounted in his memoirs, he had to sell some volumes from this part of his collection to finance his second honeymoon :
'Six weeks sounded a wonderful break but, once again, I was up against the problem of money. However, I solved it successfully. One of Amy Robinson's friends was old Mrs Barnato. Her daughter, Leah, had married Carlyle Blackwell. He was a handsome and pleasant American who, in the old silent days, had been a top-line film start but now lived with Leah in London.
Nancy and I had seen a lot of them, for Leah was rich, hospitable and gay. She was also bawdy-minded, so it occurred to me to take some of my erotica round to her. I chose de Sade's most famous work, Justine and Juliet. My edition was in ten gilt leather 12vo volumes, published in the eighteenth century and copiously illustrated. The other item I took was a large copy of Pietro Aretino the Divine's book with really beautiful coloured illustrations. Leah cheerfully gave me a very handsome cheque for these rarities, and that paid for the greater part of my honeymoon expenses.'
(Drink and Ink, page 101)
In fiction, his shelves contained not just Lady Chatterley's Lover – of which he thought not much – but Zola's Nana (part of a much larger set), Fanny Hill (which did not make it to Blackwell's catalogue), a first edition of Frank Harris's 'My life and Loves', and a first edition of lesbian novel 'The Well of Loneliness' by Radclyffe Hall (signed by the author, and sold by Blackwell's for the miniscule sum of £15).
In the realm of sexual psychology, one of the sets he valued most in his collection was 'The Psychology of Sex' by Havelock Ellis (F.A.Davis Philadelphia 1920, 3rd edition, revised and enlarged 6 vols). The set was given to him by Gordon Eric Gordon-Tombe, who had presumably brought it back specially for DW from America, as a Christmas gift for 1920, and who referred to it as "The Family Bible".
Elsewhere in this section, DW was enormously fond of his set of Casanova's Memoirs. So fond of it was he that, on his bookplate in the final volume, when he had finished reading it he wrote:
" … I feel sorry to part with Casanova …"
References : Officer and Temporary Gentleman page 135
Drink and Ink page 101 re sale of antique erotica in 1931
Phil Baker Chapter 22 ditto; on Havelock Ellis pp 111,170,233,256,373; on
Casanova page 543
Provenance : Private collections