Dennis Wheatley's Library - modern first editions
Oscar Wilde
One of the books from DW's Oscar Wilde collection
'A Picture of Dorian Gray',
dramatised by G Constant Lounsbery (1913)
Click on the image to enlarge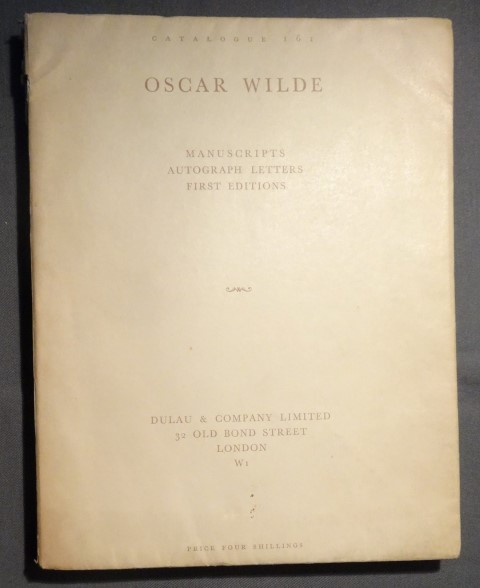 One of the 2,000 'ordinary' copies of Dulau's catalogue
of Wilde material. DW was presented with Copy No. 1
of the more exclusive edition of 105 copies on hand made paper.
Click on the image to enlarge
Oscar Wilde was Gordon Eric Gordon-Tombe's favourite author, so it was natural that Oscar Wilde would have an early and prominent place in DW's collection.
When Dulau produced a catalogue of Oscar Wilde material for sale in 1928, they produced 105 special copies on handmade paper on top of a 'trade' issue of 2,000 copies; and they presented Copy No. 1 of the special issue to DW with the following inscription :
To D. Yates Wheatley
with the publishers' thanks
for his having suggested this
large paper issue
November 1928
References : Officer and Temporary Gentleman page 135
Phil Baker pp 11,111,177,216,238,254,311
For the inscription in DW's special copy of the Dulau Wilde Catalogue, see the Blackwell's Catalogue, item 2185
Provenance : Private collections