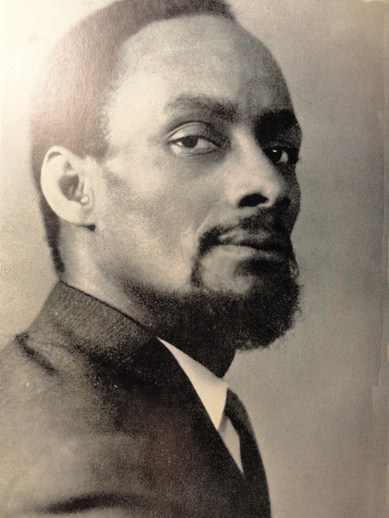 Rollo Ahmed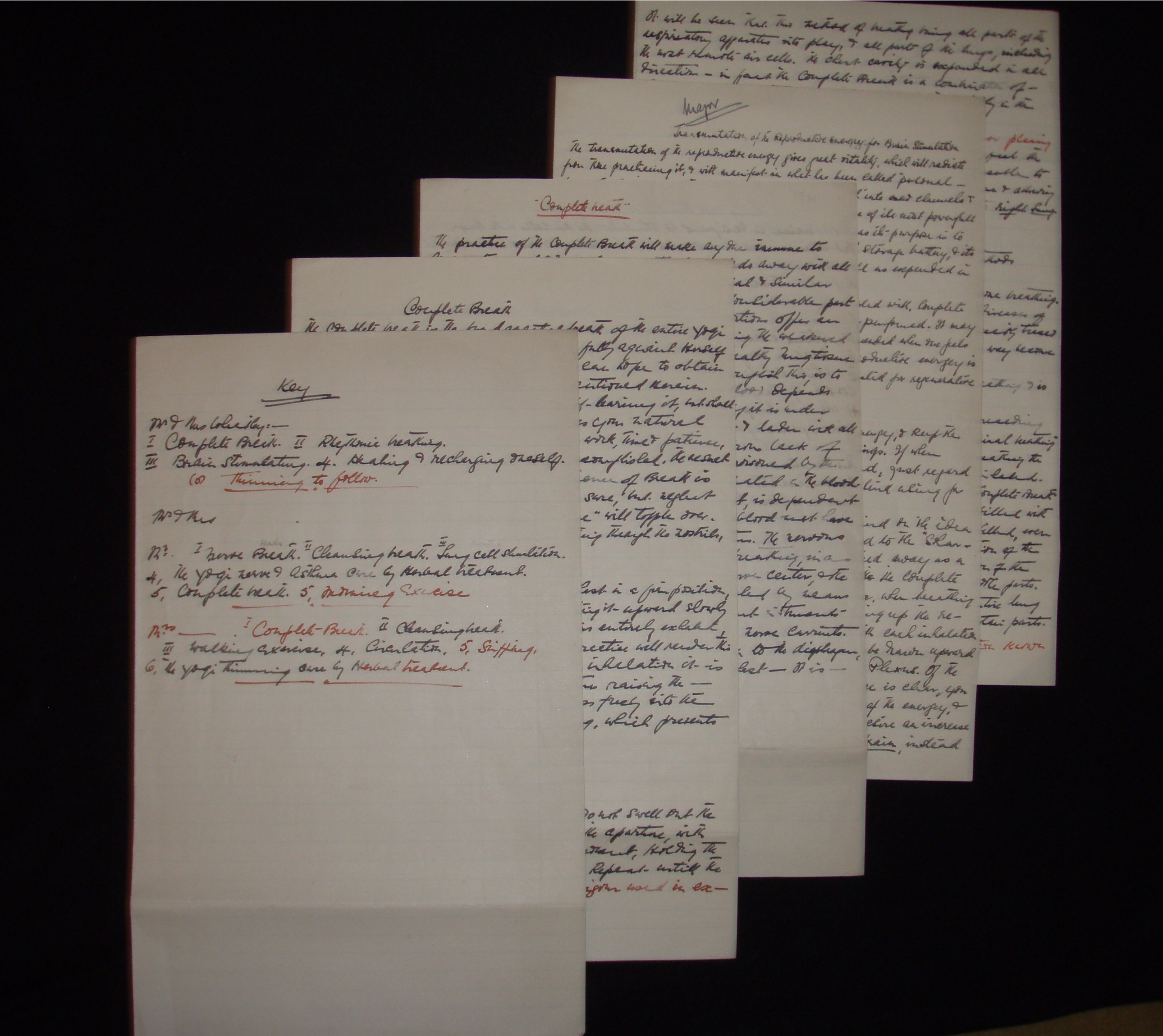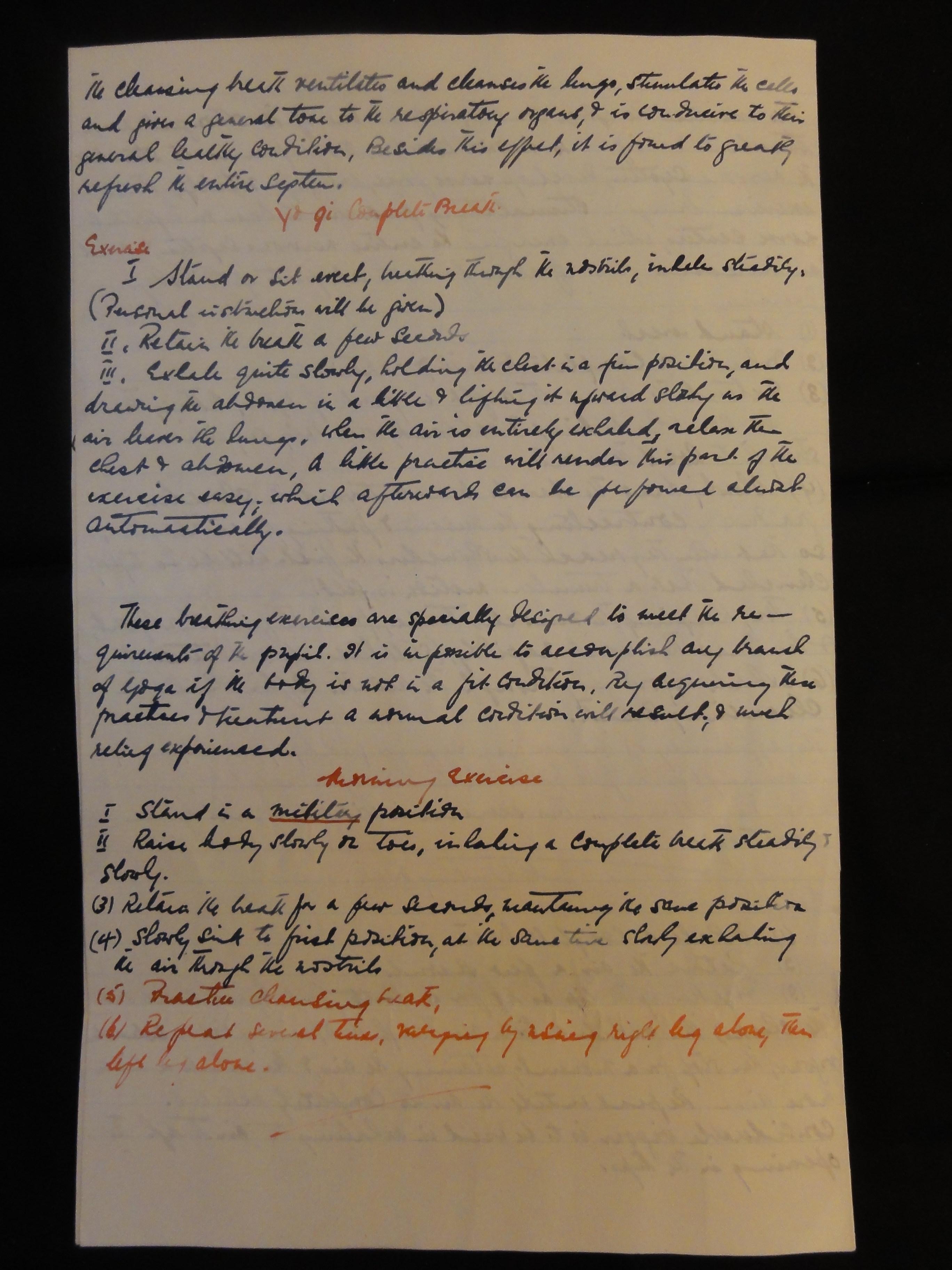 For a brief period, Ahmed gave DW and Joan lessons
in Yoga. The instructions he gave them survive
Click on the image to enlarge
For a transcript of the right hand page, click here
Of the three experts he consulted, Rollo Ahmed appears to have been the one DW liked the most.
Of West Indian extraction, DW described him as "one of the most unusual men I have ever met".
His description continued
"Born in Egypt, he had spent the greater part of his adult life in the Caribbean and South America. He had charming manners and laughed a lot. There was little he did not know about Voodoo, and he was an expert on Raja Yoga. He practised it himself, as he demonstrated one evening when we had asked him to dinner. He lived on the far side of Clapham Common and it was a bitterly cold night, but the freezing weather had had no effect on him. Having walked all the way to Queen's Gate he arrived, without an overcoat, in a thin cotton suit, and although he had no gloves his hands were as warm as toast".
Ahmed offered to teach the Wheatleys Yoga, and for a while they took lessons in Yoga breathing from him. Amazingly, the notes he gave them as an aide memoire still survive.
They discontinued the lessons after a while due to lack of time.
One story DW liked to tell about Ahmed was that when he invited a man from the Society for Psychical Research to meet him, after Ahmed had departed, the man asked DW if he had seen the little black imp that stood beside him. DW recounted that perhaps the man had been pulling his leg, but he certainly had not.
He went on "... whether Ahmed was a follower of the Left Hand Path or not, he was a jolly fellow and I got a lot of useful information from him".
In 1936, Hutchinson asked DW to write a serious study of the Occult, but at that stage he did not feel he was qualified to do it justice. He accordingly suggested Rollo Ahmed undertake the task, and DW later described the resulting book, 'The Black Art', as "one of the best I have ever read on the subject".
As Baker points out, Ahmed went to prison several times in his life for fraud. It is unknown whether DW knew, or cared.
Little more is known of Ahmed, and he would make an interesting topic for further research.
Ahmed's influence on 'The Devil Rides Out' is again uncertain, although DW makes the Duke an expert in Raja Yoga (Chapter XXVII) - a subject on which Ahmed was clearly an expert. A demonic imp was later to feature in 'The Satanist' (1960), and there have been suggestions that while Montague Summers was Copley Syle, Ahmed may have been his Egyptian servant in 'To the Devil a Daughter' (1953). Elsewhere, Ken Gallacher suggested at the 2011 Convention that Ahmed may have been the basis for Dr Saturday, the Voodoo high priest in DW's next novel featuring the Occult, Strange Conflict (1941).
References : 'Drink and Ink' pp 131, 134, 141.
Phil Baker pp 318-320, 389, 525-6,533.